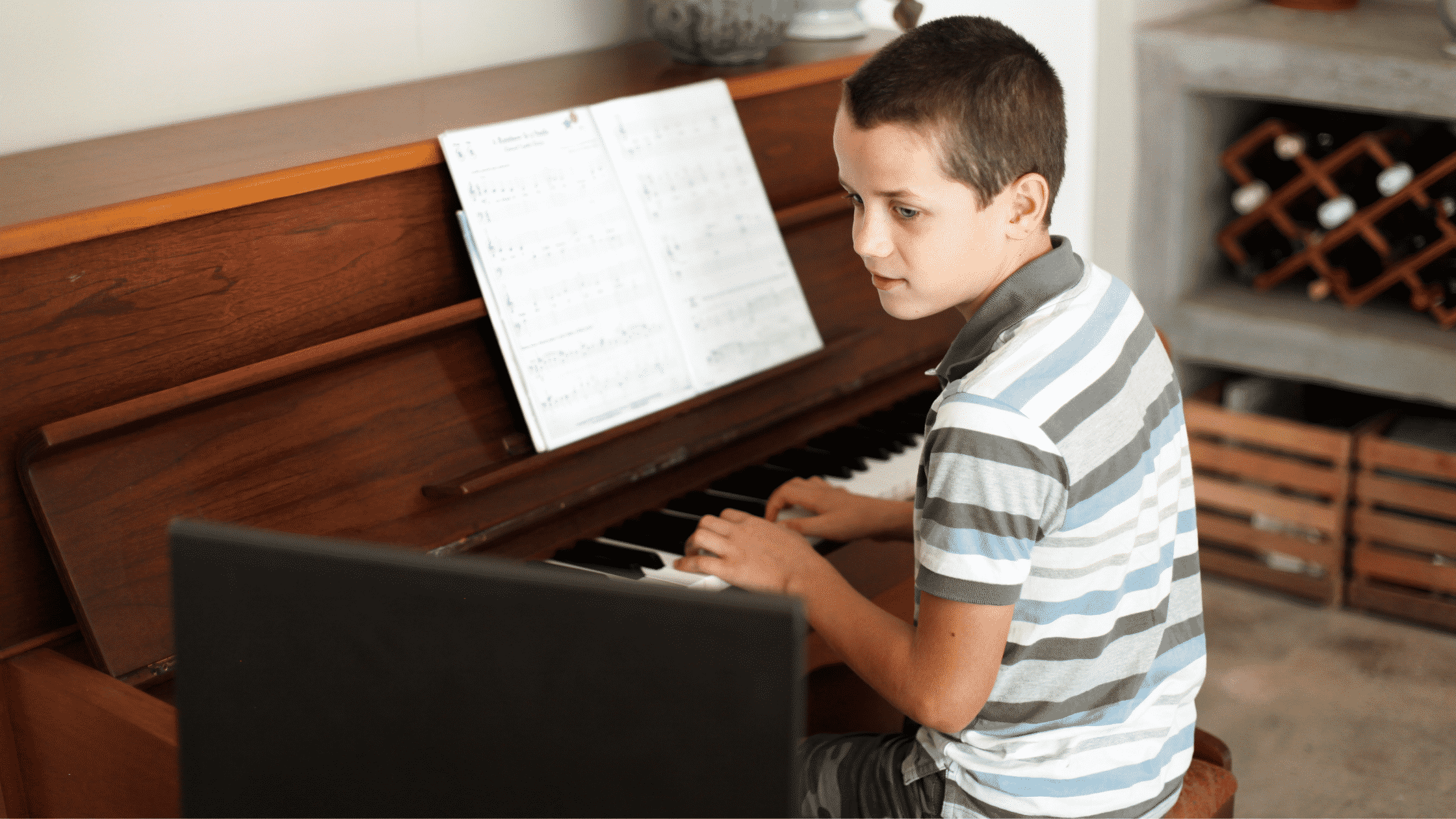 Virtual piano lessons are a great way to bring music education into your daily life, while in the comfort of your own home. If you have a reliable internet connection, a piano and a smartphone, a tablet or a laptop with a webcam you can take online piano lessons without ever having to leave home. Although the technology behind virtual piano lessons at first may seem a bit daunting, you don't need to be a technology wizard to reap the benefits of learning music online. Here are a few tips to make your online lessons go smoothly.
1. Set up your device and the room.

Today's video conferencing technology is compatible with multiple devices. Although virtual piano lessons can be taken with a smartphone, a laptop or a tablet is preferable simply due to the larger screen size. Set up your device in a position that will show your hand positions along the full span of the keyboard and where you can be seen when you talk to your instructor. Place your device on a table or stool next to the piano, preferably to your right by the higher pitch keys. The sound from the higher notes is softer than the lower notes, so positioning your device and its microphone to your right near the treble section will ensure your teacher hears every note. Start your lesson with a fully charged device or keep your device plugged in and charging. Make sure your music books are handy and remember the importance of lighting. A well-lit room will help your instructor see how well you are playing, but too much incoming sunlight bouncing off your white piano keys may obscure the video view.

2. Get to know your video software.

Whether you're using Zoom, Skype or another video platform for your virtual piano lessons, download the software or app and familiarize yourself with it before your first lesson. Make sure your app is the latest version and works with your device. Take the video conference software on a test drive, making sure that your mute is off and your camera is on. If you hear an echo, try using headphones with your device. And don't use the virtual background option in Zoom. Although it might be fun to see yourself playing piano on a beach or under water, your piano teacher will want to see all of you, and virtual backgrounds can be very distracting.

3. Check your internet connection.

When taking online piano lessons, you'll need to make sure your connection is reliable. A bad internet connection can lead to grainy, pixelated images or dropped connections. If you have an ethernet cable long enough to reach your router, connect directly to your network and forego the wireless connection. If you're on WiFi, the closer you are to your router the better. Close other unnecessary apps and software programs on your device so they don't interfere with your connection. Unless you have a high bandwidth internet connection, you should try to reduce demand on your network by asking family members to refrain from playing online games or streaming Netflix videos during your virtual piano lessons.

4. Other accessories are optional.

There are other accessories that you may find useful when setting up your virtual piano lessons. A tablet or phone stand or free-standing tripod stand may help you position your device in the best possible location to make your full keyboard, your hand positions and posture viewable to your teacher. For students not taking classes alongside a parent, headphones that plug into the device may also improve the sound quality. And standalone microphones are also available that can plug directly into your laptop. These accessories are not required for online piano lessons, but some students find that they can improve the quality of their lessons.

5. Embrace the difference with online piano lessons.

Virtual piano lessons offer students a great way to take classes remotely, but if you've never used a video conferencing platform, familiarizing yourself with the software will be extremely helpful. If both teacher and student are talking at the same time, the software's audio may cut out briefly, so try not to speak at the same time as your teacher. When speaking, turn toward your device to be sure the microphone picks up the conversation. And since your lighting and internet connection may vary throughout the day, it's important to get set up prior to the start of your lesson, so you can focus on learning during the time spent with your teacher.
Whether you take individual or group online lessons, if you follow these tips, your virtual piano lessons will be both productive and fun. One of the many benefits to learning piano online is that with the right setup, you can learn piano from anywhere. Those with a positive attitude and the dedication to practice between lessons will find that virtual piano lessons can be a rewarding experience. To find out more about our online piano lessons, contact us today!